What is the name of the big construction company founded by the Israel's biggest women-trafficker?
Translated by: Amit Lev
A couple of weeks ago, Tel-Aviv Magistrate Judge Mrs. Rachel Arkobi ruled in favor of Journalist Sharon Shpurer allowing her and others to publish the current and former names of the company once held by Dudu Digmi's, Israel biggest women traffickers who was previously convicted by Israeli's courts.
Digmi, who now holds a different name, turned State Evidence Status and granted with identity protection, became a construction mogul and was connected with a firm named D.D. Projects (D.D. Meizamim), which later changed its name to "Urban Real Estate Y.D.". In addition, during the passing year, the Digmi transferred his holdings in Urban (formerly Meizamim) to a new shareholder.
Until that court's decision, Israeli media avoided publishing Digmi's name alongside with the construction company's names as a precaution. These measures were taken due to a gag order issued by the Supreme Court regarding Digmi's new identity.
I reached out to Urban Real Estate Y.D. for a comment before publishing hereto. Upon receipt of their comment, I shall add it here.
As part of a judicial procedure following a SLAPP (Strategic Lawsuit Against Public Participation) filed by Urban (formerly Meizamim) against journalist Sharon Shpurer,  Arkobi ruled that it is not prohibited to publish Digmi's name in relations with Urban, and that the gag order applies only to Digmi's new identity because, as mentioned above, Digmi has changed his name since.
Digmi founded "Meizamim" with his partner David Zehavi roughly 7 years ago, while he turned State's Evidence in Israel's biggest women trafficking criminal case ever. Overnight, he turned from a prominent pimp to a real estate mogul. Using Urban (formerly "Meizamim"), he held dozens of properties, operated through many firms, led real-estate-purchasing-groups, performed buildings reinforcement and apartments expansions under National Outline Plan 38, and was even, for a short while, was a partner in a project led by a Public Company, headed by a tycoon, that erected a huge, exclusive projects near the beach in Tel Aviv.
If you live in one of the cities in central Israel, you might have come across Digmi. Companies related to him executed tens of projects in the area.
If you came across them, or even if you didn't, it is incomprehensible that the 24 grave criminal cases filed against Digmi in the last decade were closed as he turned State's Evidence. These cases included allegations about attempted rape, trafficking in women, pimping, extortion under threats and possession of drugs.
Digmi is the biggest trafficker ever caught in Israel and was the leading spirit in a women trafficking episode that included the smuggling of hundreds of women from Eastern Europe and employing them as prostitutes. Following his was arrest in 2007, as a suspect in attempted rape and trafficking in women, and when he realized that he might find himself jailed for many years, Digmi decided to cooperate with the police.
In exchange for the removal of those grave accusations, Digmi became an agent and passed along many recordings of his partners in this branched-out network to the police. He was turned State's Evidence and led to the conviction of four of his partners, three of them were his subordinates in the criminal enterprise. They were convicted and were sentenced for 3 to 18 years in prison.
With this status, Digmi enjoyed immunity, and later, a new identity. However, he did not leave the crime-scene behind him. Among other things, he was convicted of extortion under threats after pairing with the head of the Jaffa crime organization, Izzat Hemad. Together, the two extorted a tenant that was in the way of promoting a project worth hundreds of millions of Shekels in the up-and-coming Tel Aviv neighborhood of Florentin.
In addition, several more complaints filed to the police, alleging Digmi extorted some tenants he wished to evacuate in order to proceed with real estate projects, but these cases were closed.
A long and complicated legal battle by Israeli newspaper Haaretz, allowed the initial publication of Digmi's acts and general details regarding his real estate business were allowed. As part of her work at Haaretz, Shpurer led a series of investigative pieces about Digmi and his partners in some of his project. Some of the accomplices that were mentioned by her were family members of Shota Hoval, formerly the head of the Tel Aviv Municipality Building Permits Department, who was convicted of criminal breach of trust and served his punishment.
Following publication of that above mentioned investigative reports, Shpurer posted information on her Facebook page stating that "Meizamim" (later changing its name to Urban), is a ״dubious company״ and added that she cannot elaborate. Later on, she posted a few more Facebook short items regarding this matter. "Meizamim" (later "Urban"), filed a slander suit for 1.68 million Shekels against Shpurer, claiming these posts are libel.
In this suit, Shpurer is currently represented Pro-Bono by attorneys Uri Keidar and Amos Naveh from the Task Force on Human Trafficking and Prostitution (TFHT). They are doing it Pro-Bono because of the extremely high costs of a lawsuit of this sort, and because Shpurer is an independent journalist. The attorneys claim that this lawsuit is a SLAPP aimed at deterring journalists from warning the public of women traffickers such as Digmi, and a real estate companies and other businesses related to him.
For fear of silencing journalists using slander allegations, the Israeli website "7th Eye" submitted to the Tel-Aviv Magistrate Court a request to publish an update regarding the proceedings underway by "Meizamim" (Urban) against Shpurer.
Following 7th Eye's request, "Meizamim" moved to demand "behind closed doors" status, and a gag order was issued, hence leaving Shpurer and her lawyers with no means to alert the public.
That has changed this week.
Magistrate Justice Arkobi turned down the request by "Meizamim" (Urban), and ruled that there is no prohibition on publishing Digmi's name and his connection to "Meizamim". By doing so, Arkobi followed the Supreme Court's decision that there is a significant public interest in publishing information about Digmi and his businesses.
A year ago, Digmi ceased to be a shareholder in "Meizamim" (Urban). An entrepreneur named Yair Segal, with whom Digmi was involved in previous real estate deals, joined the company as the new shareholder. Segal and Zehavi now hold the shares of Meizamim.
In short: why did I decide to publish this story:
As I stated, I am publishing this information based on Magistrate Justice Arkobi decision dated June 5th, 2016.
It is well known that a publication of a court's ruling cannot be the subject of a libel lawsuit, as stated in Article 13(5) of Israel's Prohibition of Defamation Law: "The following shall not be a cause for criminal or civil suit: a publication by a justice, a member of a religious court, an arbitrator or any other person with judicial authority or quasi-judicial authority according to law…".
The Justice Arkobi decision was granted behind closed doors, with the intention to allow publication within 15 days thereafter. The 15 days grace period was granted to allow Meizamim to contemplate interim appeal.
on July 7th, Meizamim (Urban) submitted a formal notice proclaiming waiver of appeal, hence making Arkobi's decision peremptory and open for all.
Follows are some clear clips (in Hebrew) taken of her decision allowing all media to reveal the company's identity and Digmi's identity. To clarify, it is still prohibited to reveal Digmi's new name or Shpurer's Claim of Defense in this case.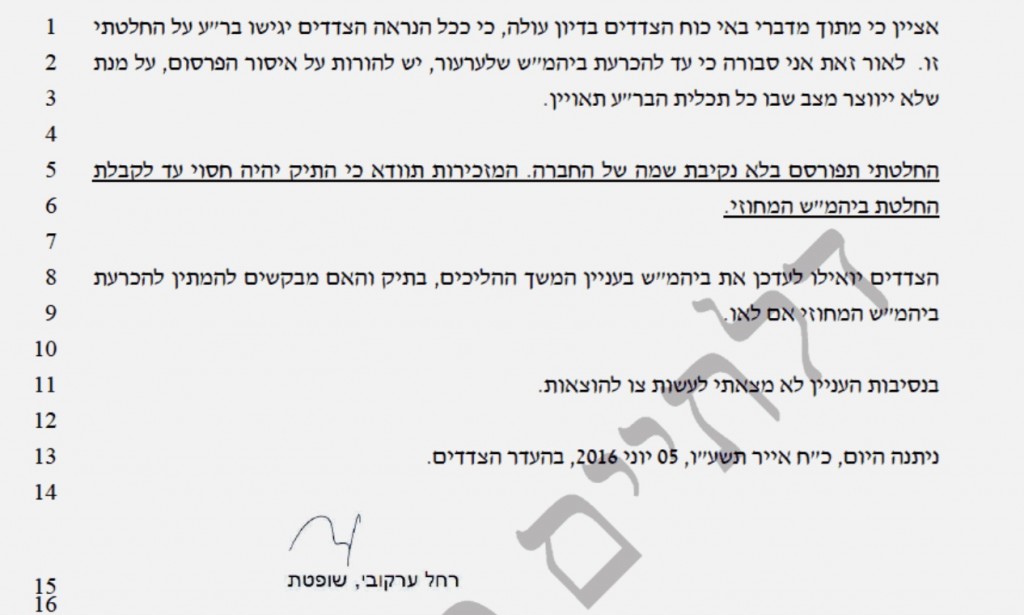 Reports in the Israeli media regarding this decision in which the Company's name and/or Digmi's name remain hidden – are in contradiction the essence of Arkobi's decision, which is, to allow a public debate on a libel lawsuit against journalists.
As seen, the court's decision still bears the original markings "Closed Doors", but it is not the case. If I will get hold of a "clean" copy of the decision, I will upload it here
Publishing the company's name is of uttermost importance in this SLAPP. Using this concealment, Digmi and the real estate firm were trying to frighten Shpurer with a 1.68 million Shekel lawsuit. It is very clear that this is an amount of money a journalist will find hard to come by, and this is regardless of the procedural and mental burden of dealing with a lawsuit this big.
This is a journalistic story and follow-ups in the press are very important.